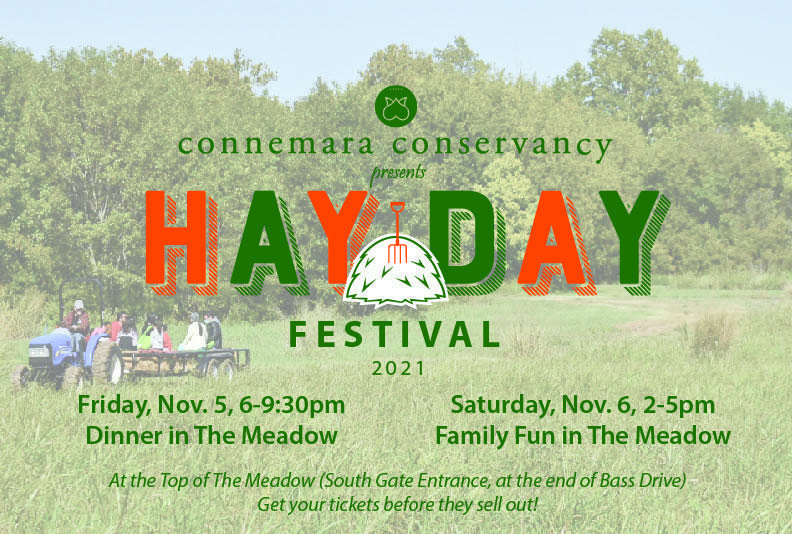 Hay Day Festival set for Nov. 5-6
Join us for our annual Hay Day Festival on the evening of Friday, Nov. 5, and Saturday afternoon, Nov. 6.
Activities begin Friday night with Dinner in the Meadow and continue Saturday with our Hay Day Family Festival.
Dinner in the Meadow
Join us as we celebrate fall with an evening of live music, food, and adult beverages under the sky in the middle of the Connemara Meadow from 6 to 9:30 p.m.
A limited number of tables seating 2, 4, 6, or 8 are available.
Each table includes a dinner by Whiskey Cake and 1-2 bottles of wine per table (based on table size). Additional bottles of wine and beer will be available via donation at the event.
For additional information and to purchase tickets visit:
https://www.eventbrite.com/e/hay-day-dinner-in-the-meadow-tickets-178446597577
Hay Day Family Festival
Saturday you are invited to enjoy an afternoon of outdoor family fun from 2-5 p.m. in the Connemara Meadow Nature Preserve!
Activities include hayrides (2 tractors this year!), a grass maze, pumpkin bowling, games and activities, photo stations, and more!
Family tickets (up to 6 people) are available for just $20.
Kona Ice will also be onsite and available for purchase.
A limited number of tickets are available and are tax-deductible as allowed by law.
For additional information and to purchase tickets visit:
https://www.eventbrite.com/e/hay-day-2021-family-festival-tickets-182956025397
We look forward to seeing you in The Meadow!
_________________________________________________________
Note this year's events are being held near the Top of The Meadow (south end of meadow). Parking will be available on the grass inside The Meadow at the south gate, located in the alley at the end of Bass Drive in Plano.
Please note that photographs may be taken at Connemara Conservancy events for marketing and publicity on our website and social media. Please contact us if you have any concerns.